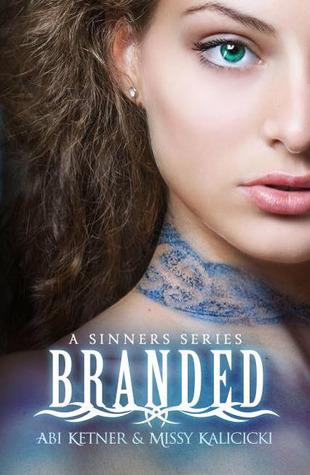 Title:Branded (Sinners #1)
Author:
Abi Ketner and Missy Kalicicki
Publication:
June 28, 2013
Synopsis:
Fifty years ago the Commander came into power and murdered all who opposed him. In his warped mind, the seven deadly sins were the downfall of society. He created the Hole where sinners are branded according to their sins and might survive a few years. At best. 
Now LUST wraps around my neck like blue fingers strangling me. I've been accused of a crime I didn't commit and now the Hole is my new home.
Darkness. Death. Violence. Pain.

Now every day is a fight for survival. But I won't die. I won't let them win.

The Hole can't keep me. The Hole can't break me.
I am more than my brand. I'm a fighter.
My name is Lexi Hamilton, and this is my story.
It's been a long time since I've read a dystopian book. Not only that, it's been a long time since I've read a book with a world that is so unique. The authors have created a world that is so elaborate and dark, and it's just so interesting. I think that's what I loved the most about this book.
The authors waste no time getting the story started. You're thrown right into Lexi's story. Lexi has been branded a sinner (specifically for lust), and is sentenced to a lifetime in the Hole, which is basically an extreme version of prison. Those first 50 or so pages, you're fed so much information about the world and the character's story that it's a bit overwhelming. I think that's the only criticism I have about this book. The first third of the book is so jammed pack, that for me, it felt like I didn't have any time to breathe and digest everything that was going on.
But from that point to the end of the novel, I couldn't stop reading. The story went by fast. And I loved how the characters developed. Lexi turned into a much stronger female character, which I always love going into books. Cole grew on me. I didn't really like him at first. He was an asshole, but like most fictional boys I love, his assholishness subsided and his softer side came through. Cole and Lexi's romance was really enjoyable. It was a slow burning romance that developed into something really passionate and amazing.
Overall, this unique world that the authors have created really made this book for me. While it had a few grammatical errors and had things moving a little too fast for my taste to be considered realistic, this was a really solid book. I'm excited to see how the story progresses in later books.
3.5 stars/ 5 stars
Abi and Missy met in the summer of 1999 at college orientation and have been best friends ever since. After college, they added jobs, husbands and kids to their lives, but they still found time for their friendship. Instead of hanging out on weekends, they went to dinner once a month and reviewed books. What started out as an enjoyable hobby has now become an incredible adventure.