The Sunday Post is a weekly meme hosted by Kimba over at the Caffeinated Book Reviewer. The Sunday Post is a chance to share events, blog posts, and showcase books from the week. 
In terms of blog posts, this week has been pretty slow for me. About half way through the week the internet went out at my house, which completely sucked. I only got it fixed yesterday morning. Despite that, I did get to do a REALLY exciting thing that I had wanted to do for a long time. I got to meet John Green. (Well, not necessarily meet. More like breathe the same air.)
Last Sunday, the details regarding the Demand Our Stars event were released. John Green, Shailene
 Woodley, Ansel Elgort, and Nat Wolffe would go to four cities in the US. One of those cities happened to be very close to where I live. So, on Friday, I was able to go to Dallas and attend the event, which was really exciting. The event was hosted at the South Side Ballroom at Gilley's and was crazy crowded.
My friends and I waited in line for about 3 ½ hours, and were luckily among the 3000 people to get in to the event. While waiting in the line, I got to meet some really awesome nerdfighters from all over Texas. John hit the stage at about 7 and introduced an AMAZING 10 minute clip with never before seen footage from The Fault in Our Stars. The clip was spectacular. I was close to crying several times. (Not very surprising).
After the clip, John welcomed Shai, Ansel, and Nat to the stage. There were several questions asked from fans at the event, Twitter, and the Pop Sugar Instagram page. There were some really awesome questions. One thing that really struck me, was a girl named Caroline. Caroline had read TFiOS before she had been diagnosed with cancer in January. The cast, as well as the crowd, was moved by her story and her great question.
The event lasted about an hour and was honestly the best experience of my life. It's so surreal to meet an author that you have loved for so long and who means so much to you. Also, it's spectacular that I was able to see the people who took some of my favorite characters in literature and brought them to life on screen. I was so fortunate that I was able to attend the event.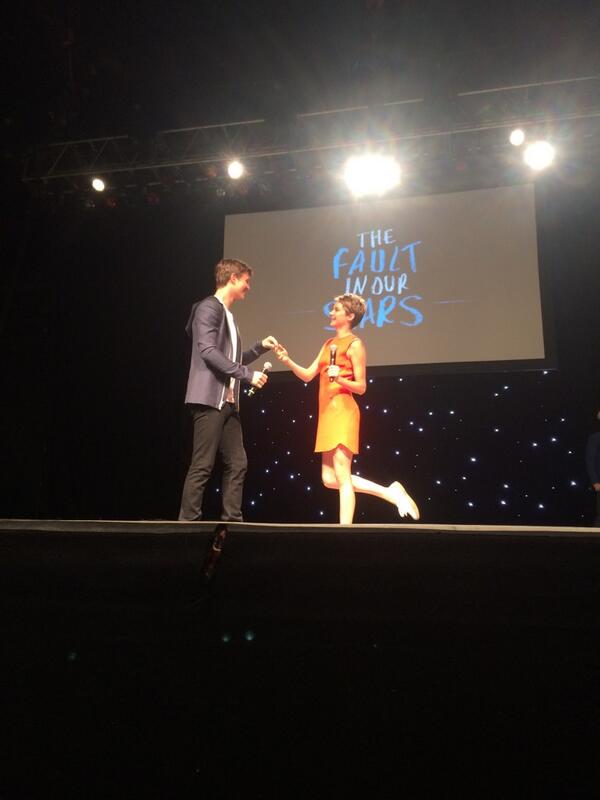 This week, I got a lot of really awesome books that I was extremely excited about.
The One by Kiera Cass (already read… Review will come later this week)
We'll Always Have Summer by Jenny Han (already read… Review will come later this month)
Fangirl by Rainbow Rowell
Boys Like You Juliana Stone via Netgalley (pub: May 6, 2014)
Branded by Abi Ketner and Missy Kalicicki via Netgalley (pub: June 28, 2013)
Divided (Dualed #2)  by Elisa Chapman via Netgalley (pub: May 27, 2014)
Biggest Flirts by Jennifer Echols via Edelweiss (pub: May 20, 2014)
The Break-Up Artist by Philip Siegel via Netgalley (pub: April 29, 2014)
Just Like the Movies by Kelly Fiore via Netgalley (pub July 22, 2014)